ALEXEY P. LEVTSEV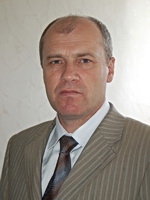 Deputy Editor-in-Chief, Head of the Heat and Power Systems Chair, National Research Mordovia State University, D.Sc. (Engineering), Professor (Saransk, Russian Federation)
ORCID ID: 0000-0003-2429-6777
Positions:, Head of the Heat and Power Systems Chair, Member of the Dissertation Council (D 212.117.06)
Phone: +7 (8342) 254101
Fax: +7 (8342) 254101
Email: This email address is being protected from spambots. You need JavaScript enabled to view it.
Date of birth: 26.06.1963
Place of birth: Republic of Mordovia
Nationality: Russian
Career:
In 1982 A. P. Levtsev graduated (with honors) from the Krasnoslobodsk Agricultural Technical School with a degree in Agricultural Mechanization.
In 1989 he graduated (with honors) from the Faculty of Mechanization and Electrification of Agriculture of Ogarev Mordovia State University with a degree in "Electrification of Agriculture".
From 1983 to 1985 he served in the Soviet Army.
1995 – Candidate of Sciences (Engineering).
2001 – Associate Professor.
2003 – Head of the Energy Saving and Energy Efficiency Problems Educational and Research Laboratory at the Institute of Mechanics and Power Engineering.
2005 – Doctor of Sciences (Engineering).
2006 – Head of the expert organization at Mordovia State University on the System of Voluntary Certification of Organizations in the Sphere of Rational Use and Conservation of Energy Resources.
2007 – Professor. Member of the Expert Council of the Regional Energy Commission of the Republic of Mordovia.
Research interests: Assessment and management of energy processes of mobile and stationary equipment, energy saving in heat-and-power engineering, energy inspections of enterprises and housing facilities, expertise of calculations of standards of electric and heat energy losses during its transmission through electric supply network.
Scientific supervision:
3 dissertations for the degree of Candidate of Sciences (Engineering).
Publications:
110 scientific and educational works, including 1 monograph, 5 textbooks, 11 patents and 1 certificate.
Awards:
2001 – Honorary Diploma of the Saransk City Administration.
2002 – Acknowledgement of the Head of the Republic of Mordovia.