YURIY B. GERBER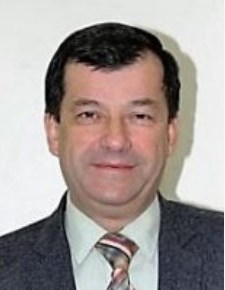 Position: Head of the Chair of Technology and Equipment for Producing and Processing Livestock Products, V. I. Vernadsky Crimean Federal University, Dr.Sci. (Engr.), Professor (Simferopol, Russian Federation).
Specialty: technologies, machinery and equipment for the agro-industrial complex.
Researcher ID: B-6690-2019
ORCID: 0000-0003-3224-6833
Russian Index of Science Citation ID: 816678
List of publications in Web of Science
Contact information: 
E-mail: This email address is being protected from spambots. You need JavaScript enabled to view it.
Area of Scientific Interest: energy-saving technologies in dairying, development of technological methods for manufacturing dairy-based therapeutic products.
Contribution:  Yu. B. Gerber is actively engaged in research work. He supervised the completed state-financed study "Development of techniques and methods of using renewable energy sources for producing organic food in the recreation zone of the south of Ukraine" (2010–2012). In December 2010, as a member of the working group, he took part in developing the "Strategy of economic and social development of the Republic of Crimea for 2011–2020". He is the author of 74 scientific and 28 educational-methodical publications, 5 of which are indexed in Scopus and WoS databases, and an educational textbook approved the Ministry of Education and Science. Yu. B. Gerber has 4 certificates of authorship for inventions registered USSR, 7 patents for inventions and a utility model registered in the Russian Federation.
Additional Information:  Member of the Academic Council of the Crimean Federal University. From May 2016 to 2018 he was an Expert of the Federal Education and Science Supervision Service in the field of the accreditation of university integrated group of training areas: 35.00.00 – Agriculture, Forestry and Fishery; 19.00.00 – Industrial Ecology and Biotechnology. Member of the Expert Council of the Higher Attestation Commission of the Russian Federation for Engineering Agroindustrial Sciences. Honorary Worker of Science and High Technologies of the Russian Federation.